It's a habit of mine now, noticing labels, logos, shoes.
Michael Jordan
Recruiting promising athletes for collegiate programs is big business. Basketball and football are proven moneymakers for almost any college or university. Alumni contribute generously to their alma mater when they have a winning record. Applications for enrollment go up, and on and on. And college-bound athletes pay attention to a winning record, luxurious training facilities, and financial aid. And, astonishing as it may seem, high school athletes take careful notice of the team's attire, including their shoes.
Georgia State University basketball coach Ron Hunter is quoted in an interview in the Atlanta Journal Constitution, only half-jokingly, saying, "My son wouldn't play for me in Converse. I'm not knocking Converse, but if R.J. (last season's NCAA Division 1 Sun Belt Athletic Conference, Player of the Year) knew we were in Converse, no he wouldn't. Absolutely no way he would have signed with me. My son is kind of a shoe guy." As it turns out, the Georgia State athletic program is the recipient of $145,000 for its use of Nike athletic wear. [1]
Antonio Blakeney from Orlando, Florida, is one of the best high school basketball players in the country. He initially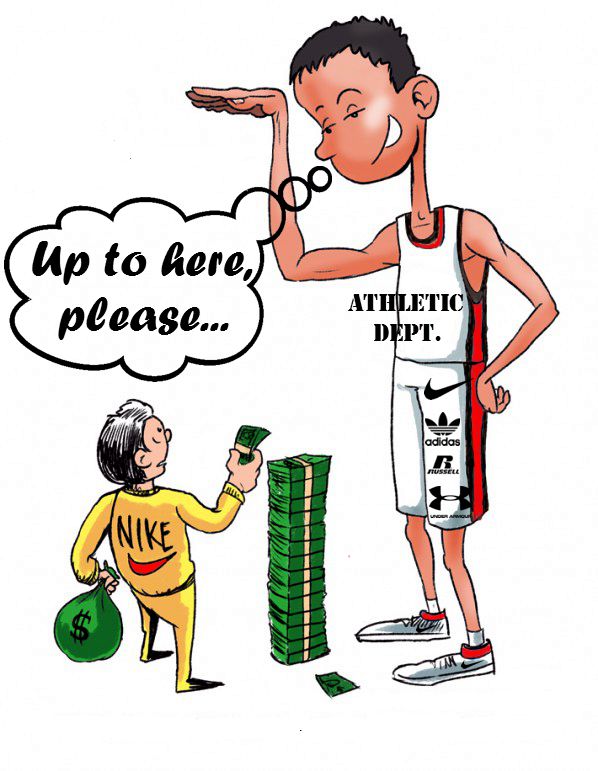 committed to play for the University of Louisville, but recently withdrew his commitment to the Cardinals amid speculation that he was under pressure from his Nike-sponsored AAU[i] team to find a Nike-sponsored college program. The University of Louisville is an Adidas-sponsored program. Blakeney denied that Nike played a role in his choice of colleges. [1]
Shoe companies have long recognized the benefit of having their brand on the playing field, sideline, free throw line, putting green, or service line. None has invested more than Nike. In fact, Nike just about owns the market. For the college and university athletic programs, the largess of shoe and apparel companies is important. Florida State University signed a contract for 2014-2015 with Nike to the tune of $4.4M. The University of Michigan signed with Adidas for $8.2M, Georgia Tech signed for $2.3M with Russell Athletic, and Auburn and the University of Maryland both signed with Under Armour for $4.3M. [2]
These contracts are extraordinary for the level of corporate involvement in collegiate athletics they demonstrate.    The University of Alabama's deal with Nike mandates that "upper-level" administrators must wear Nike gear.  Not only are the athletic department staff required to wear Nike gear, but so must the President and other administrators, or so it seems.  Nike requires that if an athletic department wants a new logo, Nike must be given first option on the redesign.  In turn, Nike will design the logo and give it to the university.  If you think the political ads leading up to the last mid-term elections were over-the-top, you haven't been to a college basketball or football game recently.  There are the obligatory ads in programs, logos on scoreboards, and flashing electronic halftime displays.  The University of Oklahoma is required to have a Nike swoosh® on the equipment truck for the football team.  At the University of Washington, a Nike swoosh must appear on the net of the varsity volleyball team.[3]
Four companies have a corner on the college market. Nike, Adidas, Russell Athletic, and Under Armour have contracts with 63 different schools with a value in excess of $143M. A summary of each company's involvement and support of athletic programs is summarized here. [2, 4] See [2] for information on individual colleges and universities, including the details of the contracts.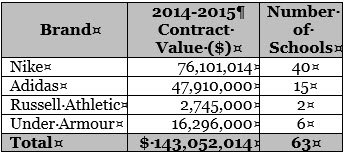 So what's the problem? While players and coaches deny publicly that shoes make a difference in recruiting, there is little doubt that many make their choices at least partially based on fashion and not on the academic standing of the school. The not-so-subtle implication is that recruits are interested only in which program has the best perks and which will be the best springboard to a professional career. Is it possible that a teenager could be so image-conscious and shallow? The answer is a resounding yes!
When left to corporate America, college athletes are little more than walking billboards. The cozy relationship between athletic apparel and shoe manufacturers with colleges and universities further underscores the main issue problem collegiate athletic programs, too much money. Colleges and universities have been seduced into a complete acceptance of a ruthless capitalistic model, not only in their athletic programs, but across an entire spectrum of activities from undergraduate admissions, faculty retention and compensation, staff promotion and advancement, support for research with direct business application, and compensation for top-level administrators. What can be done? Nothing short of a complete overhaul of higher education will begin to address the problem. What is the probability of that happening? Virtually zero, as long as the money holds out.
References
[i]  Amateur Athletic Union is a non-profit multi-sport organization dedicated to amateur sports.  While the organization is non-profit, individual teams can be sponsored by for-profit corporations.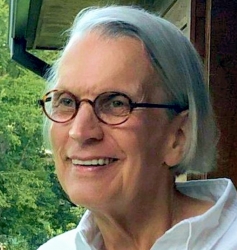 Interests include biological anthropology, evolution, social behavior, and human behavior. Conducted field research in the Tana River National Primate Reserve, Kenya and on Angaur, Palau, Micronesia, as well as research with captive nonhuman primates at the Yerkes National Primate Research Center and the Institute for Primate Research, National Museums of Kenya.