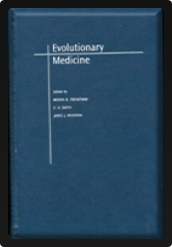 Trevathan, W., Smith, E.O., & McKenna, J.J., eds., 1999. Evolutionary Medicine. Oxford University Press, New York.
This volume is the result of two symposia organized in 1993 by E.O. Smith, and James J. McKenna in 1993. "Evolutionary Medicine" was a symposium held at the Annual Meeting of the American Association of Science in Boston, Massachusetts, and "Anthropology and Evolutionary Medicine" held at the Annual Meeting of the American Anthropological Association in Washington, DC.
Evolutionary medicine is an emerging field that recognizes that many contemporary social, psychological, and physical ills are related to incompatibility between lifestyles and environments in which humans currently live and the conditions under which human biology evolved. Unfortunately, much of modern medical practice demonstrates a misunderstanding of the evolution of physical responses to stresses that were faced by our ancestors. This volume is an attempt to explore these topics, to propose ways to reframe questions about diseases and disorders in an evolutionary context, and to suggest new approaches to treatment.
Evolutionary Medicine provides readers with a well-balanced and broad overview of the kinds of research being done in the area. The contributors are biological anthropologists with background in the medical sciences, physicians, biologists, and representatives of a few other social and biomedical sciences. Studies of interest to practitioners in many medical fields are represented in the book, including, but not limited to, pediatrics, obstetrics, immunology, infectious diseases, psychiatry, and gerontology.
Reviews
On the whole, Evolutionary Medicine is a good introduction to a new field. The articles are mostly well written and interesting and cover the gamut of current studies. Nonspecialists may struggle with a few of the chapters, but anyone interested in learning more about how evolutionary theory is being used to gain insights into medical problems will find much in the volume to stimulate their creative juices.
Sattenspiel, Lisa, Department of Anthropology, University of Missouri, Journal of the Medical Association, 284(1):99-101, 2000
Chapters
Day, Michael H. – Foreword: Historical Overview
Brett, John & Niermeyer, Susan – Is Neonatal Jaundice a Disease or an Adaptive Process?
Barr, Ronald G. – Infant Crying Behavior and Colic: An Interpretation in Evolutionary Perspective.
McKenna, James, Mosko, Sarah, & Richard, Chris – Breastfeeding and Mother-Infant Cosleeping in Relation to SIDS Prevention.
Daniel III, Hal J. – Otitis Media: An Evolutionary Perspective.
Hurtado, A. Magdalena, de Hurtado, I. Arenas, Sapien, Robert, Hill, Kim – The Evolutionary Ecology of Childhood Asthma.
Worthman, Carol M. – Evolutionary Perspectives on the Onset of Puberty.
Erickson, Mark T. – Incest Avoidance: Clinical Implications of the Evolutionary Perspective.
Trevathan, Wenda R. – Evolutionary Obstetrics.
Barnes, Kathleen C., Armelagos, George J., & Morreale, Steven C. – Darwinian Medicine and the Emergence of Allergy.
Ewald, Paul W. – Using Evolution as a Tool for Controlling Infectious Diseases.
Ewald, Paul W. – Evolution Control of HIV and Other Sexually Transmitted Diseases.
Eaton, S. Boyd, Eaton III, S. B., & Konner, Melvin J. – Paleolithic Nutrition Revisited.
Anderson, Robert – Human Evolution, Low Back Pain, and Dual-Level Control.
Nesse, Randolph – What Darwinian Medicine Offers Psychiatry.
Smith, E.O. – Evolution, Substance Abuse, and Addiction.
Leidy, Lynnette E. – Menopause in Evolutionary Perspective.
Eaton, S. Boyd & Eaton III, S. B. – Breast Cancer in Evolutionary Context.
Gerber, Linda M. & Crews, Douglas E. – Evolutionary Perspectives on Chronic Degenerative Diseases.