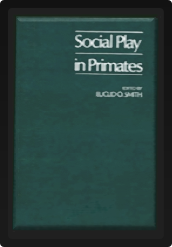 Smith, E O., ed., 1978. Social Play in Primates. Academic Press, New York.
Proceedings of a symposium concerning "Social Play in Primates" held at the 1977 Annual Meeting of the Animal Behavior Society at Pennsylvania State University.
Play is ubiquitous among mammals. One variant, social play is commonly seen among many social mammals and primates in particular. This volume is an attempt to assemble a number of different perspectives on the development, expression, importance, and evolutionary basis for social play.
Reviews
Ethologists, comparative and developmental psychologists, and primatologists will find (the volume) of value. There is an excellent theoretical trealment of the functional and motivational aspects of play, and of current research trends including variables affectiing play, and categorization and function of play.
Ron Kerner, Psychology, State University of New York, Stony Brook, Quarterly Review of Biology, 54 (3), 366, 1979.
Together the contributions provide a wide variety of recent information on this important topic. There are new findings, fresh viewpoints, and innovative attempts to describe and to examine ex perimentally this fascinating assortment of behaviors. I found this informative and stimulating book a valuable contribution to the literature.
Wally Welker, Neurophysiology, University of Wisconsin, American Scientist, 67 (5): 612, 1979
Chapters
Smith, E.O. – A Historical View of the Study of Play: Statement of the Problem.
Bramblett, Claud A. – Sex Differences in the Acquisition of Play Among Juvenile Vervet Monkeys.
Loy, James, Loy, Kent, Patterson, Donald, & Conaway, Clinton – The Behavior of Gonadectomized Rhesus Monkeys. I. Play.
Smith, E.O. & Fraser, Martin D. – Social Play in Rhesus Macaques (Macacamulatta): A Cluster Analysis.
Maple, Terry & Zucker, Evan – Ethological Studies of Play Behavior in Captive Great Apes.
Poirier, Frank E., Bellisari, Anna, & Haines, Linda – Functions of Primate Play.
Breuggeman, Judith A. – The Function of Adult Play in Free-Ranging Macaca mulatta.
Symons, Donald – The Question of Function: Dominance and Play.
Baldwin, John D. & Baldwin, Janice I. – Reinforcement Theories of Exploration, Play, Creativity, and Psychosocial Growth.
Candland, Douglas, K., French, Jeffrey, A., & Johnson, Carl N. – Object Play: Test of a Categorized Model by the Genesis of Object-Play in Macaca fuscata.
Hamer, Karen & Missakian, Elizabeth – A Longitudinal Study of Social Play in Synanon/Peer-Reared Children.