What does it take to get gun owners, Second Amendment advocates, the NRA, and anyone who carries a weapon concealed or otherwise to get their collective heads out of the sand?  The recent mass killing at the Emanuel AME Church in Charleston, SC is yet another tragic incident of innocent victims murdered with firearms.  Frankly, I am tired of politicians, pundits, and potential presidential candidates using every excuse in the book to deflect the reason for so many mass killings.  It's the guns, stupid.
In the last few days, a plethora of clairvoyants have offered a variety of explanations for the senseless killing.  Jeb Bush attributed it to racism.  Hillary Clinton voted for "institutional racism."  Initially, Lindsay Graham characterized Roof, the alleged shooter, as a "whacked out kid" but later ratcheted up the rhetoric calling him a "racist jihadist."  Rick Perry, one of the real intellectual giants of the Republican Party, concluded it was a "drug induced" accident.  Bernie Sanders went with racism.  Rick Santorum called the shooting a hate crime and assault on religious liberty.
Self-declared experts on mass murders decry hate crime, a popular catch-all label for bias- motivated crime, distinct from other criminal activity.  Of course, hate crimes have a long and distinguished history not only in the US, but in Europe, Africa, and Asia, as well.  Romans persecuted Christians, Nazis slaughtered Jews, and colonizers of the New World targeted Native Americans, not to mention the atrocities associated with slavery in the American South.  Hate crimes, racism, and mental illness are used to explain away mass murders.  For many, if you can label it, it will go away.  Television pundits bandy about 'hate crime' with the same regard as jaywalking.  Presidential hopefuls set up the insoluble problem of racism in America as the culprit.  Once it is labeled, and the obligatory memorial service and prayer vigil are held we can go about our business.  It will take another mass killing for there to be another public outcry, but nothing will change.  Even President Obama and his rendition of "Amazing Grace" are likely to do little to solve the problem.
Gun owners and Second Amendment zealots are fond of saying that guns don't kill, people do.  According to gun advocates, anyone who could commit such a heinous crime must be mentally ill.[1]. So, all we have to do is blame mental illness and everything will be all right.  All we need are better mental health facilities and somehow the problem will go away.  It is as if saying it will make it so.
Wayne LaPierre, Executive VP for the NRA, has gone so far as to advocate expanding the FBI-run instant background checks used by gun dealers when selling firearms to include all those adjudicated mentally incompetent.  He continues, "We have no national database of these lunatics.  We have a completely cracked system that's got these monsters walking the streets." [2]  If that is not a sobering statement… register the mentally ill in a database so they can't buy guns.  Really?  This is certainly not advocacy for improvements in access to mental health treatment, and throws the mentally ill under the bus, making them scapegoats for mass murderers.
In a stunningly simple-minded statement, a member of the board of the NRA blamed state Sen. Clementa Pinckney, the pastor of the Emanuel African Methodist Episcopal (AME) Church, for the deaths of the participants in the Bible study group.  As a state senator, if he (Pinckney) had voted to allow gun owners to carry their own weapons, eight of his church members might be alive.  The bill that Pinckney voted against in 2011 in the South Carolina legislature would have permitted gun owners to bring guns into public places like churches and daycare centers. It ultimately failed.[3]
According to some, if everyone were packing heat, such atrocities would never happen.  As LaPierre famously said in the wake of the Sandy Hook shooting, "The only way to stop a bad guy with a gun is a good guy with a gun." [4] And if the heat-packing populace were successful, we would just label the shooter mentally ill, score one for the good guys, and go merrily about our business.
Don't worry, in a few days all the tears, hand wringing, candlelight vigils, and the memory of President Obama leading the attendees of the memorial service in "Amazing Grace" will be old news.  The flowers at the makeshift memorial outside the church will die, the City of Charleston Sanitation Department will silently discard the stuffed animals (nobody likes a soggy teddy bear), the signs will fade, and the candles will be tossed out.  America and the gun lobby will continue with business as usual and nothing will change.
Congress has been bought and paid for by the NRA and the gun lobby.  Politicians are unwilling to take a stand because they might lose an endorsement and the all-important campaign contributions.  Put a gun in the hand of many Americans and you have a disaster waiting to happen.  Put a gun in a house with kids and no matter how well secured, we shouldn't be surprised when kids shoot each other.  Likewise, a gun in the hand of those severely depressed is trouble.  What are we doing in America when guns go to school and are the conflict resolution mechanism of choice in an argument over a basketball game?
While estimates vary, several different surveys (e.g., Pew, Gallup) peg between 30-50% of households in the US with firearms.  However, the number of guns in the US is staggering.  There are somewhere between 270-310 million guns in America.  That is nearly one gun for every man, woman, and child. [5]  The US leads the world in the number of guns per capita.  In fact we have almost twice as many guns per person as our closest competitor and hold the dubious distinction of being the most well-armed country in the world (See Figure 2).
Americans not only love guns, many worship them.  When I was a kid, shooting tin cans with a .22 rifle on my aunt and uncle's farm was a treat.  Today fun is measured in muzzle velocity, impact signature, and lethality.  Today, tin cans don't stand a chance and neither do armored cars or unarmed citizens with the firepower available at your local all-purpose gun, bait, and drive-in beer store.  Of course, this ignores the black market where even more frightening weapons can be had for a price.  Street sweepers, Mac 10s, Tech 9s, and Uzis are all the rage for settling disputes en masse.  There is nothing like a fully automatic weapon for getting the attention of those with whom you have a disagreement.  Second Amendment zealots go on and on the right to bear arms. It is an academic exercise to argue the interpretation of the Second Amendment, but I have rights too, and that is not to bear arms, and not to be in fear for my life by doing so.  In order to appreciate how violent we really are as a nation, it is helpful to look at other developed countries for comparison.
In Figure 3, I show the homicide rates and actual number of murders from the major geographic areas of the world.  The comparison of the Americas with Europe is particularly striking.  Even Africa, a continent where the belief about the value of human life is different from the West, pales in comparison.  If one compares the rate of homicides in the Americas with the rest of the world, it is easy to see that we have a ways to go in developing our conflict resolution skills.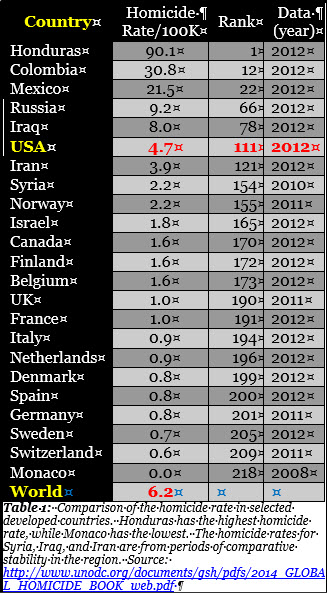 Examining the data on a country-by-country basis we find that the US is not the "murder capital of the world" by a rather wide margin (See Table 1).  The US homicide rate is actually below the world average rate, but it is still higher than any other developed country.  So what does this tell us about Americans?  That question is addressed in Figure 4, where I examine data for 2005-2013 for the US, Canada, UK, and the Netherlands for both the homicide rate and the homicide rate by firearms.  Importantly, the homicide rate in the US has decreased over time, but the rate of homicide by firearms is largely unchanged.  This suggests that while the murder rate is decreasing, the proportion of homicides using firearms is actually increasing.  Herein lies the problem.
Back to where this blog started.  Charleston is another instance where the availability of a firearm to young man raised "in a very good family, well-educated, from church-going, God-loving people…" had dire consequences.  Clearly, there is more to the story than simply availability of firearms; one has to question the wisdom of giving firearms as gifts, for a start.  Remember the countless television news stories of a murder in a residential neighborhood and a neighbor, with a microphone thrust into her face, commenting that the alleged perpetrator seemed like a nice guy, he always waved in the morning on his way to work.  Going to church, believing in God, and superficial friendliness are not predictors of one's ability to commit heinous crimes.
The root causes for such high murder rates in the US are far beyond the scope of this blog, but obscene income inequality, lack of commitment to public schools, universal health care including mental health treatment, and anti-government extremism come to mind.  However, in the short run, the cause is obvious.  Access to a treasure trove of firearms makes murder and mass killings as easy as going to the grocery store.
While your garden variety "Saturday Night Specials" are used in street crimes, when it comes to mass murders it is a different story.  Figure 5 shows the origins of weapons used by mass murderers in the US from 1982-2012.  Instead of being illegally obtained, almost 80% were legally obtained.  Basically, if a firearm is not fully automatic, which means that it is firing so long as the trigger is depressed, you can buy it at your local gun, Walmart, or online store.
Sure there are some exceptions and much is made about the use of assault weapons.  The use of an assault weapon is a staple of the media.  It conjures up images of commandos dressed head to toe in black complete with balaclava, night vision goggles, handgun in a holster strapped to the thigh, a bullet proof vest, and a formidable looking black weapon.  The whole idea of an assault weapon is just obfuscation.  The use of the term suggests to the uninformed that there "military style" weapons unavailable to the general public that must be obtained on the black market.  This is simply nonsense.  Loosely defined, an "assault weapon is a semiautomatic (that is, one round per trigger pull) with a large capacity magazine designed for rapid fire and combat use."  The defining characteristic is the large capacity magazine.  Semiautomatic handguns, rifles and shotguns can be outfitted with large capacity clips or magazines containing up to 40 bullets, and mass murderers often carry several of these magazines, making reloading quick and easy.  Figure 6 shows the types of weapons used by mass shooters over a 20 year period.  The weapon of choice is a semiautomatic handgun, preferably with a high capacity magazine.
Congress has attempted to outlaw certain types of weapons, but the NRA and the powerful gun lobby have prevailed.  In spite of the Columbine High School massacre (Colorado) in 1999 (15 dead, 24 injured), the Amish school shooting (Pennsylvania) in 2006 (6 dead, 5 injured), the Virginia Tech massacre in 2007 (33 dead, 23 injured), the Northern Illinois University shooting in 2008 (6 dead, 21 injured), the Newtown school shooting (Connecticut) in 2012 (28 dead, 2 injured), the Oikos University (California) shooting  in 2012 (7 dead, 3 injured), and the Marysville-Pilchuck High School (Washington) shooting in 2014 (5 dead, 1 wounded),  just to mention the school murders, minimal regulation of firearms has proven elusive.
Why?  Because so many people hold fast to a misguided belief that the only way to stop a bad guy with a gun is a good guy with a bigger gun.  One is left with the inescapable conclusion that the freedom to own and carry firearms wherever and whenever one pleases trumps any consideration of the cost in innocent lives.  According to some Second Amendment zealots, the only way to be sure that the government does not interfere with the rights guaranteed by the Constitution is to be sufficiently well-armed to hold off a military siege by law enforcement.
I could be even more cynical than usual and suggest that the gun industry and the NRA are more interested in corporate profits than defending the Constitution.  Exploiting the widely promoted idea that America is dangerous and there are anti-American forces just around the corner has generated a financial goldmine for firearms manufacturers.  Gun and ammunition sales spiked when President Obama took office as many feared strict gun control measures would be enacted.  Today there almost 3.5 million firearms produced each year in the US.  The gun and ammunition business generates over $11 billion per year.  Today there are over 50,000 gun retail stores in the US, while there are only slightly over 36,500 grocery stores and a paltry 14,000 McDonald's.  Yes, there are more stores selling guns than groceries. [6] As Tom Cruise said in the 1996 film "Jerry McGuire"… "Show me the money."
The time for inaction is over; meaningful gun control legislation is the only way to stop the carnage.  Frankly, I am not sanguine about the likelihood of anything changing.  Lobbyists and special interest PACs put enormous pressure on elected officials to relax restrictions on gun ownership even more.  State legislators experience the same treatment, so those of us troubled by the useless loss of life by firearms are likely to continue in the minority for some time to come.  Just remember the next time there is a mass murder, and it is only a matter of time, don't deflect attention from the real cause.  It's the guns, stupid.
References
1    http://www.salon.com/2015/06/18/its_not_about_mental_illness_the_big_lie_that_always_follows_mass_shootings_by_white_males/
[2]  http://www.nbcnews.com/id/50283245/ns/meet_the_press-transcripts/#.VYm9oPlVhBd
[3]  http://www.politico.com/story/2015/06/nra-board-member-blames-clementa-pinckney-charleston-shooting-119202.html
[4]  http://washington.cbslocal.com/2012/12/21/nra-only-way-to-stop-a-bad-guy-with-a-gun-is-with-a-good-guy-with-a-gun/
[5]  http://www.pewresearch.org/fact-tank/2013/06/04/a-minority-of-americans-own-guns-but-just-how-many-is-unclear/
[6]  http://abcnews.go.com/US/guns-america-statistical/story?id=17939758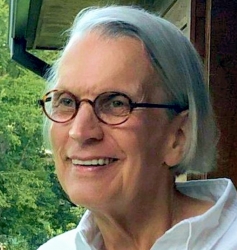 Interests include biological anthropology, evolution, social behavior, and human behavior. Conducted field research in the Tana River National Primate Reserve, Kenya and on Angaur, Palau, Micronesia, as well as research with captive nonhuman primates at the Yerkes National Primate Research Center and the Institute for Primate Research, National Museums of Kenya.