Over the last six months or so, I have spent a lot of time in a hospital, where I observed a small part of the hospital hierarchy in an up close and personal way.  At the top of the hierarchy is management/administration.  I am sure that there are many fine hospital administrators around, but in my role as curmudgeon I am going to reserve judgment.
In terms of people who do the real work of hospitals, the surgeons call the shots.  I have been lucky in my recent stints to have not only a technically excellent surgeon, but one who shows his human side as well.  That doesn't mean we didn't have some vigorous discussions about my treatment, but I came away with the feeling that he listened.  For the record, on a previous visit I was treated by a truly remarkable gastroenterologist.  Unlike any other physician who has treated me, he was a model of compassion, empathy, sheer technical brilliance and unflagging good will.  I probably need to confess that I may not be the easiest patient that these doctors and the others that treated me encountered every day.  But these two men showed what a true professional looks like in the hospital setting.
Of course, there are multiple other layers of staff, technicians, laboratory assistants, and on and on.  But the people I want to write about are those that are about as far removed from the administrators as is possible.  As in any other job, you encounter people with varying degrees of commitment, personal pride in their work, and genuine empathy for those with whom they interact.  I was fortunate enough to have three excellent nurse technicians take care of me during my recent hospital visit.  One, a young black woman, stands out because of her attitude.  I asked her on several different occasions about her job.  Each time she responded in an honest, thoughtful way that she truly did enjoy helping her patients get up and walk, changing linens, emptying a urinal when needed, and cleaning up the inevitable personal indiscretions that occur when you are confined to a bed.  She recognized what patient care means on a personal level.  For that I am grateful.
The two other nurse techs that stand out are men.  Although quite different in temperament, attitude, and behavior, they are each extraordinary people making a seemingly pedestrian job important.  Let's face it, emptying bedpans is not exactly a job that most people would relish.  Moreover, both of these men were not exactly what you would expect to see on a floor of surgery patients.  'Manly men' would not be an exaggerated description of either, but they were so different.  The first time one of them entered my room I thought to myself 'well what we have here'.  Decked out in the usual scrubs, with a full beard and bandana around his head, he looked like he should be doing a commercial for Ford trucks or working on a construction site.  Initially, it was hard to read him, but it didn't take too many finger sticks and blood pressure checks for me to find a giant reservoir of common sense, sanity, and a wicked sense of humor.  He moved easily along doing his job with little fanfare and absolutely no drama.  I quickly learned that when he came into the room, I could count on a good laugh.
The other nurse tech that impressed me was a robust, well-muscled Jamaican man, who was absolutely remarkable.  First impressions suggested a taciturn, serious person with questionable sensitivity to my needs.  Never have I been more wrong in my first impression.  Early on after surgery, getting up from the bed and going to the restroom was a big deal.  He would quietly stand by me as I held onto the walker with a white-knuckled death grip and shuffled to the toilet.  "I won't let you fall,' was the injunction he offered over and over.  Sure enough, he never let me fall.  It takes a special kind of person to help another with the most personal and private maintenance activities.  He made the potentially embarrassing tasks routine, just a normal part of the day.  As the days passed, he and I developed a rapport that was largely unstated, but very real.
While I hope not to repeat the hospital experience anytime soon, these three people made my recent hospital stay a time when I felt well cared for and supported, at least when they were on my team.  My mood brightened every time I heard the knock on the door and one of them came into my room.  While far removed from the decision makers at the top of the hierarchy, these people are outstanding examples of healthcare workers making the lives of their patients brighter every day.  You are my heroes.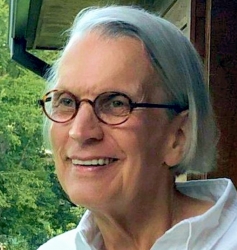 Interests include biological anthropology, evolution, social behavior, and human behavior. Conducted field research in the Tana River National Primate Reserve, Kenya and on Angaur, Palau, Micronesia, as well as research with captive nonhuman primates at the Yerkes National Primate Research Center and the Institute for Primate Research, National Museums of Kenya.