109     Roman emperor Trajan inaugurates the Aqua Traiana, an aqueduct that channels water from Lake Bracciano, 40 kilometers (25 miles) north-west of Rome.
1314    First War of Scottish Independence: the Battle of Bannockburn concludes with a decisive victory by Scottish forces led by Robert the Bruce, though England did not recognize Scottish independence until 1328 with the signing of the Treaty of Edinburgh-Northampton.
1340   Hundred Years' War: Battle of Sluys – The French fleet is almost completely destroyed by the English Fleet commanded in person by King Edward III.
1343   Joan of Valois (born), Queen of Navarre (died 1373)
1374   A sudden outbreak of St. John's Dance causes people in the streets of Aachen, Germany, to experience hallucinations and begin to jump and twitch uncontrollably until they collapse from exhaustion.
1386   John of Capistrano (born), Italian priest and saint (died 1456)
1497   John Cabot lands in North America at Newfoundland leading the first European exploration of the region since the Vikings.
1509   Henry VIII and Catherine of Aragon are crowned King and Queen of England.
1519    Lucrezia Borgia (died), Italian wife of Alfonso I d'Este, Duke of Ferrara (born 1480)
1535    The Anabaptist state of Münster is conquered and disbanded.
1542   John of the Cross (born), Spanish mystic and saint (died 1591)
1571    Miguel Lopez de Legazpi founds Manila, the capital of the Republic of the Philippines.
1587   William Arnold (born), English-American settler (died 1675)
1597    The first Dutch voyage to the East Indies reaches Bantam (on Java).
1604   Samuel de Champlain discovers the mouth of the Saint John River, site of Reversing Falls and the present day city of Saint John, New Brunswick, Canada.
1622   Battle of Macau: The Dutch attempt but fail to capture Macau.
1717    The Premier Grand Lodge of England, the first Masonic Grand Lodge in the world (now the United Grand Lodge of England), is founded in London, England.
1767    Jean-Baptiste Benoît Eyriès (born), French geographer and author (died 1846)
1813   Henry Ward Beecher (born), American clergyman and reformer (died 1887)
1842   Ambrose Bierce (born), American author (died 1914)
1846   The saxophone is patented by Adolphe Sax in Paris, France.
1860   Mercedes of Orléans (born) (died 1878)
1865   Robert Henri (born), American painter (died 1929)
1880  First performance of O Canada, the song that would become the national anthem of Canada, at the Congrès national des Canadiens-Français.
1893   Roy O. Disney (born), American businessman, co-founded The Walt Disney Company (died 1971)
1895   Jack Dempsey (born), American boxer (died 1983)
1897   Daniel K. Ludwig (born), American businessman (died 1992)
1902   King Edward VII of the United Kingdom develops appendicitis, delaying his coronation.
1908   Grover Cleveland (died), American politician, 22nd President of the United States (born 1837)
1911    Juan Manuel Fangio (born), Argentinian race car driver (died 1995)
1912    Mary Wesley (born), English author (died 2002)
1916    Mary Pickford becomes the first female film star to sign a million dollar contract.
1918   First airmail service in Canada from Montreal to Toronto.
1927   Fernand Dumont (born), Canadian sociologist, philosopher, and poet (died 1997)
1931    Billy Casper (born), American golfer
1931    Otto Mears (died), Russian-American businessman (born 1840)
1938   Pieces of a meteor, estimated to have weighed 450 metric tons when it hit the Earth's atmosphere and exploded, land near Chicora, Pennsylvania.
1939   Siam is renamed Thailand by Plaek Pibulsonggram, the country's third prime minister.
1942   Arthur Brown (born), English singer (Kingdom Come and The Crazy World of Arthur Brown)
1942   Michele Lee (born), American actress, singer, and dancer
1944   Chris Wood (born), English saxophonist (Traffic and Ginger Baker's Air Force) (died 1983)
1944   Jeff Beck (born), English singer-songwriter, guitarist, and actor (The Yardbirds, The Jeff Beck Group, The Honeydrippers, and Beck, Bogert & Appice)
1944   John "Charlie" Whitney (born), English guitarist (Family, Axis Point, and Streetwalkers)
1945   Colin Blunstone (born), English singer-songwriter (The Zombies and Keats)
1945   George Pataki (born), American politician, 53rd Governor of New York
1946   Louise Whitfield Carnegie (died), American philanthropist (born 1857)
1946   Robert Reich (born), American economist and politician, 22nd United States Secretary of Labor
1947   Kenneth Arnold makes the first widely reported UFO sighting near Mount Rainier, Washington.
1947   Mick Fleetwood (born), English-American drummer and actor (Fleetwood Mac and John Mayall & the Bluesbreakers)
1948   Patrick Moraz (born), Swiss keyboard player and songwriter (Yes, The Moody Blues, and Refugee)
1948   Start of the Berlin Blockade: the Soviet Union makes overland travel between West Germany and West Berlin impossible.
1949   John Illsley (born), English singer-songwriter, bass player, and producer (Dire Straits)
1949   The first television western, Hopalong Cassidy, is aired on NBC starring William Boyd.
1956   Joe Penny (born), English actor
1957    In Roth v. United States, the U.S. Supreme Court rules that obscenity is not protected by the First Amendment.
1959   Andy McCluskey (born), English singer-songwriter, bass player, and producer (The Id, Dalek I Love You, and Orchestral Manoeuvres in the Dark)
1961    Curt Smith (born), English singer-songwriter, guitarist, and producer (Tears for Fears and Graduate)
1961    Ralph E. Reed, Jr. (born), American activist
1967   Sherry Stringfield (born), American actress
1978   Robert Charroux (died), French author (born 1909)
1980   Minka Kelly (born), American actress
1982   "The Jakarta Incident": British Airways Flight 9 flies into a cloud of volcanic ash thrown up by the eruption of Mount Galunggung, resulting in the failure of all four engines.
1987   Jackie Gleason (died), American actor and singer (born 1916)
1997   Brian Keith (died), American actor (born 1921)
2004  In New York, capital punishment is declared unconstitutional.
2005  Paul Winchell (died), American voice actor and ventriloquist (born 1922)
2008  Ira Tucker (died), American singer (The Dixie Hummingbirds) (born 1925)
2010   John Isner of the United States defeats Nicolas Mahut of France at Wimbledon, in the longest match in professional tennis history.
2012   The last known individual of Chelonoidis nigra abingdonii, a subspecies of the Galápagos tortoise, dies.
2013   Alan Myers (died), American drummer (Devo) (born 1955)
2013   Mick Aston (died), English archaeologist and academic (born 1946)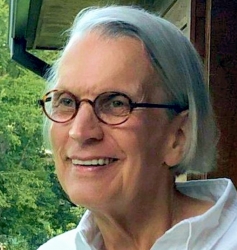 Interests include biological anthropology, evolution, social behavior, and human behavior. Conducted field research in the Tana River National Primate Reserve, Kenya and on Angaur, Palau, Micronesia, as well as research with captive nonhuman primates at the Yerkes National Primate Research Center and the Institute for Primate Research, National Museums of Kenya.