47 BCCaesarion (born), Egyptian king (died 30 BC)
79       Vespasian (died), Roman emperor (born 9)
1611    The mutinous crew of Henry Hudson's fourth voyage sets Henry, his son and seven loyal crew members adrift in an open boat in what is now Hudson Bay; they are never heard from again.
1661    Marriage contract between Charles II of England and Catherine of Braganza.
1683   William Penn signs a friendship treaty with Lenni Lenape Indians in Pennsylvania.
1685   Antonio Bernacchi (born), Italian soprano and composer (died 1756)
1707   John Mill (died), English theologian (born 1645)
1713    The French residents of Acadia are given one year to declare allegiance to Britain or leave Nova Scotia, Canada.
1794   Empress Catherine II of Russia grants Jews permission to settle in Kiev.
1806   Mathurin Jacques Brisson (died), French zoologist and philosopher (born 1723)
1810   John Jacob Astor forms the Pacific Fur Company.
1812   War of 1812: Great Britain revokes the restrictions on American commerce, thus eliminating one of the chief reasons for going to war.
1832   Sir James Hall (died), 4th Baronet, Scottish geologist (born 1761)
1860   The United States Congress establishes the Government Printing Office.
1860   The United States Congress establishes the Secret Service.
1868   Christopher Latham Sholes received a patent for an invention he called the "Type-Writer."
1887   The Rocky Mountains Park Act becomes law in Canada creating the nation's first national park, Banff National Park.
1894   Alfred Kinsey (born), American entomologist and sexologist (died 1956)
1894   Edward VIII of the United Kingdom (born) (died 1972)
1894   The International Olympic Committee is founded at the Sorbonne in Paris, at the initiative of Baron Pierre de Coubertin.
1912    Alan Turing (born), English mathematician and computer scientist (died 1954)
1914    Mexican Revolution: Pancho Villa takes Zacatecas from Victoriano Huerta.
1925   Art Modell (born), American businessman (died 2012)
1925   Miriam Karlin (born), English actress (died 2011)
1926   The College Board administers the first SAT exam.
1929   June Carter Cash (born), American singer-songwriter and actress (Carter Family and The Carter Sisters) (died 2003)
1931    Gunnar Uusi (born), Estonian chess player (died 1981)
1937   Niki Sullivan (born), American singer-songwriter and guitarist (The Crickets) (died 2004)
1938   The Civil Aeronautics Act is signed into law, forming the Civil Aeronautics Authority in the United States.
1940   Stuart Sutcliffe (born), Scottish-English bass player (The Beatles) (died 1962)
1940   Wilma Rudolph (born), American runner (died 1994)
1941    Robert Hunter (born), American singer-songwriter and guitarist (The Grateful Dead)
1941    Roger McDonald (born), Australian author
1942   World War II: Germany's latest fighter, a Focke-Wulf FW 190, is captured intact when it mistakenly lands at RAF Pembrey in Wales.
1944   Rosetta Hightower (born), American singer (The Orlons)
1947   The United States Senate follows the United States House of Representatives in overriding U.S. President Harry Truman's veto of the Taft-Hartley Act.
1955    Maggie Greenwald (born), American director and screenwriter
1958   The Dutch Reformed Church accepts women ministers.
1959   Convicted Manhattan Project spy Klaus Fuchs is released after only nine years in prison and allowed to emigrate to Dresden, East Germany where he resumes a scientific career.
1960   The United States Food and Drug Administration declares Enovid to be the first officially approved combined oral contraceptive pill in the world.
1961    Cold War: the Antarctic Treaty, which sets aside Antarctica as a scientific preserve and bans military activity on the continent, comes into force after the opening date for signature set for the December 1, 1959.
1969   IBM announced that effective January 1970 it would price its software and services separately from hardware thus creating the modern software industry.
1969   Warren E. Burger is sworn in as Chief Justice of the United States Supreme Court by retiring Chief Justice Earl Warren.
1972   Title IX of the United States Civil Rights Act of 1964 is amended to prohibit sexual discrimination to any educational program receiving federal funds.
1972   Watergate Scandal: U.S. President Richard M. Nixon and White House Chief of Staff H. R. Haldeman are taped talking about using the Central Intelligence Agency to obstruct the Federal Bureau of Investigation's investigation into the Watergate break-ins.
1995   Jonas Salk (died), American biologist and physician (born 1914)
1997   Betty Shabazz (died), American educator and activist (born 1936)
1998   Maureen O'Sullivan (died), Irish-American actress and singer (born 1911)
2000  Peter L. Pond (died), American clergyman, activist, and philanthropist (born 1933)
2005  Shana Alexander (died), American journalist (born 1926)
2006  Aaron Spelling (died), American actor, producer, and screenwriter, founded Spelling Television (born 1923)
2009  Ed McMahon (died), American game show host and announcer (born 1923)
2011   Peter Falk (died), American actor (born 1927)
2012   Ashton Eaton breaks the decathlon world record at the United States Olympic Trials.
2012   Frank Chee Willeto (died), American politician, 4th Vice President of the Navajo Nation (born 1925)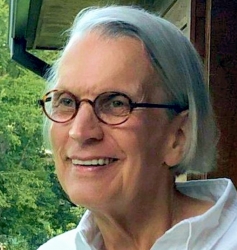 Interests include biological anthropology, evolution, social behavior, and human behavior. Conducted field research in the Tana River National Primate Reserve, Kenya and on Angaur, Palau, Micronesia, as well as research with captive nonhuman primates at the Yerkes National Primate Research Center and the Institute for Primate Research, National Museums of Kenya.