363     Julian, Roman emperor (died) (born 332)
699     En no Ozuno, a Japanese mystic and apothecary who will later be regarded as the founder of a folk religion Shugendō, is banished to Izu Ōshima.
1541    Francisco Pizarro (died), Spanish conquistador (born 1471)
1582   Johannes Schultz (born), German composer (died 1653)
1703   Thomas Clap (born), American minister and academic (died 1767)
1730   Charles Messier (born), French astronomer (died 1817)
1740   A combined force Spanish, free blacks and allied Indians defeat a British garrison at the Siege of Fort Mose near St. Augustine during the War of Jenkins' Ear.
1793   Gilbert White (died), English ornithologist (born 1720)
1798   Wolfgang Menzel (born), German poet and critic (died 1873)
1810   Joseph-Michel Montgolfier (died), French inventor, co-invented the hot air balloon (born 1740)
1817    Branwell Brontë (born), English painter and poet (died 1848)
1819   Abner Doubleday (born), American general (died 1893)
1857   The first investiture of the Victoria Cross in Hyde Park, London.
1870   The Christian holiday of Christmas is declared a federal holiday in the United States.
1878   Mercedes of Orléans (died) (born 1860)
1883   Edward Sabine (died), Irish-English astronomer, geophysicist, and ornithologist (born 1788)
1886   Henri Moissan isolated elemental Fluorine for the first time.
1892   Pearl S. Buck (born), American author, Nobel Prize laureate (died 1973)
1898   Willy Messerschmitt (born), German engineer and businessman (died 1978)
1901   Stuart Symington (born), American lieutenant and politician (died 1988)
1904   Peter Lorre (born), Slovak-American actor (died 1964)
1906   The first Grand Prix motor racing event held (France).
1909   Colonel Tom Parker (born), Dutch-American talent manager (died 1997)
1909   The Science Museum in London comes into existence as an independent entity.
1911    Babe Didrikson Zaharias (born), American basketball player and golfer (died 1956)
1913    Aimé Césaire (born), French poet, author, and politician (died 2008)
1915    Paul Castellano (born), American mobster (died 1985)
1917    The first U.S. troops arrive in France to fight alongside Britain and France against Germany in World War I.
1922   Eleanor Parker (born), American actress
1922   Walter Farley (born), American author (died 1989)
1927   The Cyclone roller coaster opens on Coney Island.
1929   Fred Bruemmer (born), Canadian photographer and author
1931    Colin Wilson (born), English philosopher and author
1934   Dave Grusin (born), American pianist and composer
1934   President Franklin D. Roosevelt signs the Federal Credit Union Act, which establishes credit unions.
1936   Edith Pearlman (born), American author
1936   Initial flight of the Focke-Wulf FW 61, the first practical helicopter.
1938   Billy Davis, Jr. (born), American singer (The 5th Dimension)
1941    Hiro Narita (born), Japanese-American cinematographer
1943   Georgie Fame (born), English singer and pianist (Bill Wyman's Rhythm Kings)
1945   The United Nations Charter is signed in San Francisco.
1948   Shirley Jackson's short story The Lottery is published in The New Yorker magazine.
1948   The Western allies begin an airlift to Berlin after the Soviet Union blockades West Berlin.
1948   William Shockley files the original patent for the grown junction transistor, the first bipolar junction transistor.
1955    Dick Mol (born), Dutch paleontologist
1955    Mick Jones (born), English singer-songwriter and guitarist (The Clash, Big Audio Dynamite, General Public, Carbon/Silicon, and London SS)
1956   Chris Isaak (born), American singer-songwriter, guitarist, and actor
1956   Clifford Brown (died), American trumpet player and composer (born 1930)
1959   The Saint Lawrence Seaway opens, opening North America's Great Lakes to ocean-going ships.
1960   Madagascar gains its independence from France.
1960   The former British Protectorate of British Somaliland gains its independence as Somaliland.
1961    Greg LeMond (born), American cyclist
1963   Harriet Wheeler (born), English singer (The Sundays)
1963   U.S. President John F. Kennedy gave his "Ich bin ein Berliner" speech, underlining the support of the United States for democratic West Germany shortly after Soviet-supported East Germany erected the Berlin Wall.
1969   Colin Greenwood (born), English bass player and songwriter (Radiohead)
1970   Chris O'Donnell (born), American actor
1971    Max Biaggi (born), Italian motorcycle racer
1974   Derek Jeter (born), American baseball player
1974   The Universal Product Code is scanned for the first time to sell a package of Wrigley's chewing gum at the Marsh Supermarket in Troy, Ohio
1975    Two FBI agents and a member of the American Indian Movement are killed in a shootout on the Pine Ridge Indian Reservation in South Dakota; Leonard Peltier is later convicted of the murders in a controversial trial.
1993   Roy Campanella (died), American baseball player (born 1921)
1993   William H. Riker (died) American political scientist (born 1920)
1997   The U.S. Supreme Court rules that the Communications Decency Act violates the First Amendment to the United States Constitution.
2000  President Clinton announces the completion of the first survey of the entire human genome.
2003  Strom Thurmond (died), American general, lawyer, and politician, 103rd Governor of South Carolina (born 1902)
2003  The U.S. Supreme Court rules in Lawrence v. Texas that gender-based sodomy laws are unconstitutional.
2007  Liz Claiborne (died), Belgian-American fashion designer, founded Liz Claiborne (born 1929)
2012   Nora Ephron (died), American director, producer, and screenwriter (born 1941)
2013   The U.S. Supreme Court rules that Section 3 of the Defense of Marriage Act is unconstitutional and in violation of the Fifth Amendment to the United States Constitution.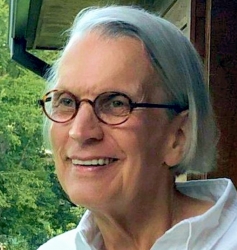 Interests include biological anthropology, evolution, social behavior, and human behavior. Conducted field research in the Tana River National Primate Reserve, Kenya and on Angaur, Palau, Micronesia, as well as research with captive nonhuman primates at the Yerkes National Primate Research Center and the Institute for Primate Research, National Museums of Kenya.